Penny Harris (text) and Winnie Zhou (illustrator), Movie Mayhem – A Story About Saying Sorry, Big Sky Publishing Australia. September 2020, 32 pp., RRP $16.99 (pbk), ISBN 9781922265777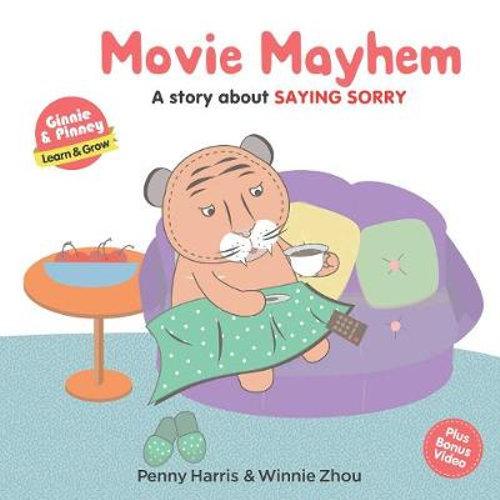 Tao Tiger likes peace and quiet so, as he is settling into a relaxing movie night at home, he is less than impressed with the unexpected arrival of his noisy friends. Unfortunately, Tao does not know how to express his irritation to his friends and subsequently, it is Tao's caring friend Ginny Giraffe who will be hurt by Tao's angry response.
Movie Mayhem is part of an award-winning series promoting emotional development and wellbeing that Harris and Zhou have produced in consultation with a range of education and linguistic professionals. Each character is introduced at the very beginning of the book with a profile of their positive attributes and their 'failing' – for the want of a better word. No one is perfect, after all.
The illustrations are delightful with all the animal characters presented rather like felt toys stitched around the edges. The colour palette is calm but certainly not dull.
This story shows how easily the good intent of others can be misplaced. Tao's friends were so carried away with excitement at the possibility of a fun night watching a movie with Tao that they forgot to consult Tao as to whether he would like their company. And, with mayhem in full swing, it is Ginny Giraffe in her awareness of Tao's displeasure, who tries to sort it out only to become the target of Tao's anger.
This is a book to engender dialogue between youngsters and older persons about gaining an awareness of others and being able to express one's feelings. It is a good beginning to skills that can take a lifetime to master.
Reviewed by Jennifer Mors

The post Movie Mayhem appeared first on Reading Time.